SINGLE LEG MLM SOFTWARE
DEVELOPMENT COMPANY IN

BHUBANESWAR, INDIA
Single Leg MLM Software plan is also known as Monoline or linear MLM plan. It is quite popular day by day with the help of auto filling work. There is no limit to join members and no dedicated leg for any members. So it works with sponsors only but we can set levels in Single leg mlm plan. This plan has no limits and no end point to stop and each member can gain huge profit with this plan. Single leg plan is working on first come and first earn concept so it will always try to join in earlier stage. Each associate or member get their commission according to down line genealogy and some direct level consideration.
There are various types of MLM plans in market but single leg mlm software plan is unparallel and comparable with other plans. It has various features that we cannot set with other MLM software. Because of it has only a straight line so it cannot be stop and has no limit of end. When any new member join the plan all member get profit from it so Single Leg MLM software is blooming the network marketing industry as of now. The structure of monoline mlm plan is so simple to easy to explain with MLM leaders and associate members. There is always a scope to get profit with joining of any new member so this plan attracts and get more recruit in downline compare to other mlm Plans.

Demo Access:
URL : http://wefre.in/mlm1
Admin Login : Id :
User Login : Id :
At Bk Graphy we offer best featured single leg MLM software to our clients in Bhubaneswar, Odisha India. Here we listed some of standard features of single leg MLM plan with website or ecommerce website designing. Our team has dedicated developers for MLM software so it is beneficial to explain any plan. Just drop us an inquiry and get best price estimate for you single leg MLM software development in India.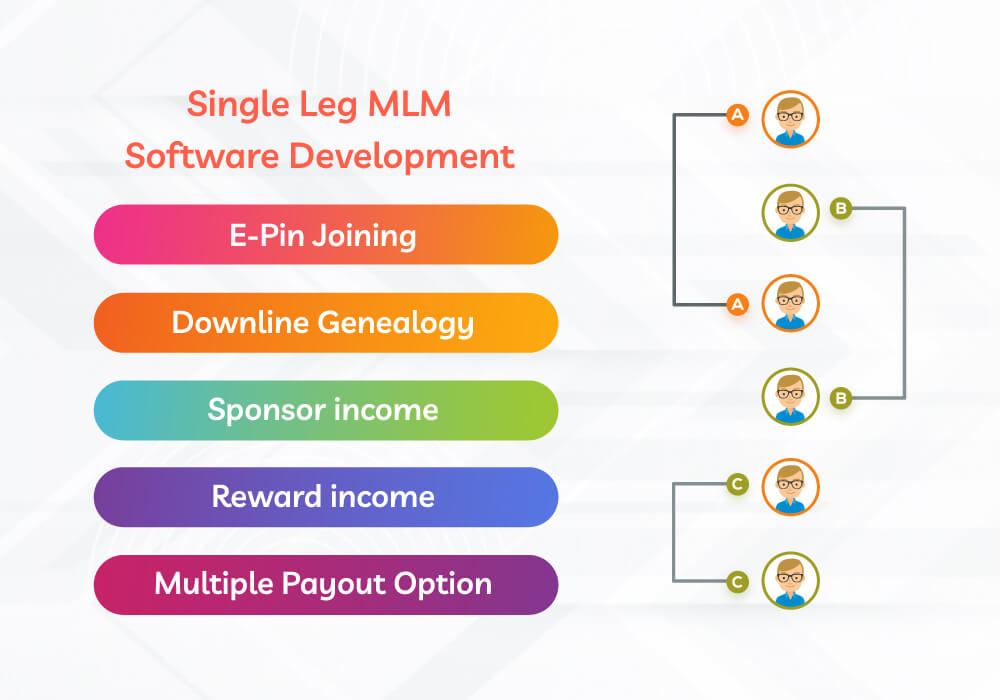 Features of Single Leg MLM Software
Online tracking AWB (Air Way Bill)
Responsive Business plan attractive web
Firm and Organization profile and fact sheet
Company overview and team details
Business Opportunity details
How to Work Monoline Plan?
All Product kit details
New Associate registration form
Member Login
Rank advancement achiever details
Download Brochure and PDF
Latest Message and announcement details
Contact Details with Google map
Associate and member rank system
Payment gateway integration
Member or client says information
Member Panel features of Single leg MLM Software
Associate Dashboard
Linear or Monoline Downline Team Counter
Direct Referral Sponsor
Rank Advancement Progress
Referral Team and Extra Bonus Income
Total Credit, debit and E-Balance summary
Get Latest Message from administrator
ROI Day, Month and Quarter wise earning
Manage Personal and Account Info
Manage and Update profile
Update and modify personal and business information
Update accounting information
Change and Update Password
Welcome joining letter and receipt bill
My Referral Link Sharing option
View terms and Condition
Straight line Tree Structure
Monoline tree structure with active and blocked ID
Direct Sponsor All Details
Rank Advancement and qualified details
Level wise associate team counter
Rank Wise downline team information
Level Achievement and incomplete counter summary
Stage completed alert and SMS
advanced level grid system tree
Registration Pin Manager
Generate and Manage Pin
Transfer pin to Other associate member
E-Pin Generate History
Pin transfer Record Statement
Sold in, transfer, Sold out Voucher and Pin Record
Used and Stock Pin Details
Total Epin Summary Statement
Total Sales Voucher Commission report
Epin Franchises Request
Straightforward (Monoline) System
Manage structure of a downline and single Leg
Total Day By day joining history
Weekwise Single Leg tree Progress Details
Total Company turnover with commission summary
Linear Auto Filling system management
Member target accomplished analytics
Rank Advancement and Threshold Level
Award and reward achievement with qualified level
Wallet Statement Ledger
Single Leg Income Report
Create and Manage Payout/Withdrawal Request
Referral bonus Commission summary
Level or Stage advancement income report
Paid, Unpaid, Cancel Account Summary
Account summary (Credit, Debit and Balance)
Account and Bank history record
Bank Transaction Ledger
Fund Transaction Ledger
Pin/Voucher Transaction Ledger
A/c Ledger Sheet Management
Legal and Services Charges Deduction report
Downline Earning System
Auto Generate Direct Sponsor Commission
Generation Gap Commission By Moth End (Predefine Date)
Rank Advancement Commission
Leadership bonus Commission
Repurchase direct and total team sales turnover commission
Total Business Value BV/PV Summary and automation
Buy Product Repurchase BV/PV Details
Buying or Shopping Product receipt and Invoice
Royalty Commission
Award reward Commission
Ticket and SMS Auto Controlling
Online Support Ticket and Request
SMS, Email and Payment Option API
Create, Modify and manage Ticket
Ticket History Summary
Leg Growth Analytics Report
Auto/Manually generate Single Leg Income
Generate Referral Bonus
Report of Straight line member Report
Daily, weekly and Monthly Single Leg member Counter
Referral bonus income report
Direct Introducer Earning Income
Reward Qualified analytics
Day by Day Commission Report
Date To Date Income transaction History
Account Total Summary (Credit Amount, Debit Amount)
All Transaction Statement
Commission Payout Request
Commission paid Report
Outstanding payout Summary Ledger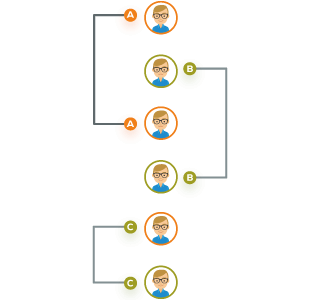 ePIN Agents Management Panel Features
PIN Agency Management
Manage Registration Code/ Pin
Transfer Joining Code to Other member
Manage E-Pin System
Pin Commission Report
Fresh, Used and Stock Pin Record List
Manage Business Information
Sale Pin Txn Record
Sale Pin Commission Report
Date To Date Account transaction History
Month wise Account Report
Export Pin/Voucher/Gift Code Details
Search Or Find Pin History
Single Leg MLM Software Admin Panel Features
Manage User type
Manage and Update Admin User
Manage Network Associate Panel
Manage Pin Agencies User
Manage back Office Operator
Business Development Web Setting
Manage Business Plan and opportunity
Fully mobile responsive web
Set Product category and Product
Manage Product SKU, Price and Details
Manage Business Opportunity Banner
Upload and Set Photo and Plan Video gallery
Online Support ticket and feedback form
Update Download brochure
Top Ten Achiever List
Top Award and Reward Qualified member
Define Terms, Privacy Policy and Conditions
Pin Point Controller
Generate E-pin for new registration
Generate E-pin for Rejoining/Top up
Assign Pin To Other Channel
Move Pin To Member and Agencies
Manage Both types of Code (New Registration and Rejoining)
Renewal Pin Program
Sell New Register Voucher Code Record History
Used, unused and Stock joining code report
Blocked or Un assign/Distributed Pin Record List
Date picking Voucher code Report
E-Coupon Stock Summary
Pin Generated date, Transfer and Used Date record list
E-pin Summary Amount Ledger
Manage Pin Request By member Report
All Agencies Coupon Code Stock Report
Member Record Management
Manage All Registered Member Report
Active, DE active and Blocked Associate Details
Associate personal and Business Information
Date to Date Member Registered Report
Member record Export by Excel CSV
Find member by ID
Explore associate by Mobile and legal A/c
View all Store and Agencies Product Stock
Member Banking Details record
Member list by customizable
Membership Summary
Single Leg Commission Generation
Generate Auto Filling Commission Automation
Straight line Commission and Earning Income
Referral, Level and Stage Income
Leadership bonus
All member Award and reward report
Daily, Weekly Payout request Pending report
Advanced instant payout system for banking control
Associate Commission summary and Ledger
Agencies Commission summary and Ledger
Auto and manually Generate All payout Request For advanced Banking
Bank transfer, Pending and paid report
Internal Fund amount transaction report
Credit/Debit and Fund transfer Note
E-wallet Summary report (Daily, Monthly and Yearly)
User Earning Commission Summary History (Date Picking)
Automatic Weekly/Monthly payout (If Payout cycle weekly)
TDS and Other Services Charges Deduction report
List of Award/Reward qualified achiever list and record
Advancement Report
Day by Day New Member join Record
Date to Date Pin Summary record
Account transaction Summary ledger
Single Leg Earning income Report
Direct Sponsor Commission
Payout Request and paid Report
Report analytics of day by day registration
Charts of total Income, Outgoing amount and Balance Amount
Member Incoming and Outgoing Amount Report
Integration Setting
Auto, Semi and manually SMS and Email Send
Sending automation
Configurable Rest of API Integrated
SMS Notification and Promotion for all user
Payment API Option
Commission and Package Setting
Modify New Registration Amount
Modify member Renewal Amount
Set Single Leg Pool System
Set Direct Referral Commission
Create/Modify Latest Announcement, News and Other Information
Setting Tds deduction (%)
Setting Legal Charge deduction (%)
Setting Services Charge deduction (%)
Minimum payout request Limit
Manage Fund transfer and Banking Transfer request Limit
Withdrawal Per Day txn Manage
Manage feedback, Customer Support and Other Registration Form
---
Benefits to work with Single Leg MLM Plan Software
First come and first get commission concept
No need downline
Easy to Understand and maintain tree
Very Fast earning and development of tree
Insane earning at a monoline level generation completed after
auto filling new registration and income
Referral bonus and award system extra benefit
Rejoining bonus
No Tree, Branches, Filling level just one straight line going up forever
Unlimited Pages
All Team Members
Unlimited Leads
Unlimited Page Views
Export in HTML/CSS